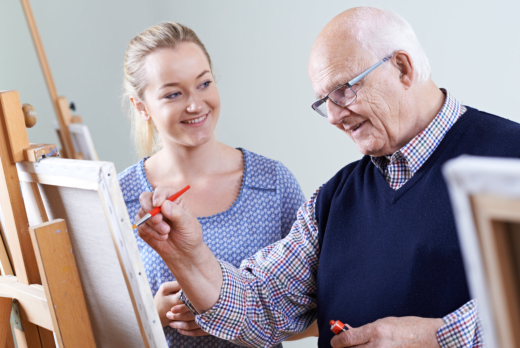 A lot of seniors tend to feel content with staying at home and being inactive most of the time. Some wish to enjoy fun activities but cannot do so because of health or mobility issues. But professionals always recommend that aging adults indulge in physical activity regularly to attain a healthy body and mind. However, this does not only entail physical exercise or strenuous activities.
The caregivers at our home care agency in Temecula, California can assist seniors in doing different calming, stimulating, and fun activities. All of these activities don't only focus on physical health but mental and social wellbeing as well. One activity is arts and crafts. There are countless benefits to doing arts and crafts. It keeps your mind stimulated while helping you prevent emotional illnesses, it gives you a sense of competence and greater self-esteem after creating something beautiful, it improves your blood flow and dexterity in your fingers, hands, and arms, and it leads to an improved cognitive function.
The feeling that comes from a job well done creates positive effects on your body and mind. It helps seniors regain confidence, independence, and dignity. Arts and crafts are also a way to help them overcome boredom and the feeling of isolation. Whether your senior loved one is at home or in an assisted living facility, knowing that they are indulging in arts and crafts will also give you peace of mind as this can only bring satisfaction and happiness to them.
So, consider picking up some oil paints, watercolors, pens, canvasses, and other materials for creating today. Or call our home care agency in La Jolla, CA to know more about some fun activities your senior loved ones can do!
Aging Well Home Care, Inc. is also a home care agency in Murrieta, California.