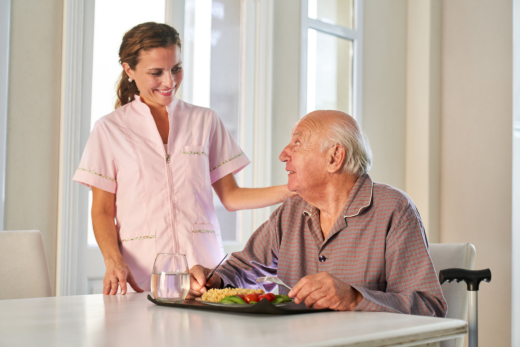 Our seniors need enough nourishment to keep them strong and healthy throughout their golden years. Being well-nourished also means that your loved one will be able to fight off illnesses, infections, and lower their risk for health complications.
The lack of appetite comes naturally as we age. But this doesn't mean that the body's need for food and nourishment decreases as well. In fact, the loss of appetite can put your loved one at risk for malnutrition if not addressed right away.
Aging Well Home Care, Inc. is here to give you a few tips that we often use to increase senior appetites in our home care agency in Temecula, California. Take a look:
A steady eating schedule
Eating at the same time every day trains your body to expect, and even look forward to, the upcoming meal.
Focus on the nutrients
Sometimes we forget that a full plate isn't always necessary to get all the nutrients our bodies need. If a senior doesn't feel like eating much, our home care agency in Murrieta California makes sure that the food given to them is packed with all the right nutrients and minerals but at a smaller serving.
Healthy snacking
Offering smaller plates of food at certain times of the day is something the caregivers at our home care agency in La Jolla, CA do often. This ensures that their patient is eating right without feeling overwhelmed by the plate's contents.
We hope these tips help you in increasing your loved one's appetite. If you are looking for a caregiver or simply need advice regarding senior care, give us a call at 951-473-8763.